Our Vision
Westpac Scholars will create a better future for all Australians.
Investing in people with bold ambitions for the future of Australia
Our vision is to empower a new generation of leaders to transform the future of Australia. And we believe providing access to education and leadership develop opportunities to people from all walks of life is the path to achieving this.
Embedded within our vision are several critical strategic priorities, including:

Backing Australians who can make a difference, awarding 100 scholarships a year, forever.
Developing world-class leaders, through our transformative leadership programs.
Empowering the W100 Network, by providing lifelong access to an inspiring community.
Fostering long-term mutually beneficial partnerships with Australian universities.
Delivering measurable impact that is sustainable long-term.
Our scholarship focus areas
We've centred our scholarships around four focus areas we believe are at the heart of Australia's future growth and prosperity.

Sustainable Future
Responding and adapting to climate change is one of the world's most urgent challenges. We want to accelerate innovative solutions to reduce Australia's environmental impact and build a more sustainable future.

Australia in Asia
The Asia Pacific is a dynamic and complex region deeply intertwined with Australia's future. We want to strengthen people to people connections and foster ideas beyond borders.

An Inclusive Country
Our nation holds enough space for all Australians to be included. We want to back changemakers building resilient communities and overcoming social injustice.

Thriving Tech Sector
Technology is intertwined with our future, and today's bold ideas will transform lives tomorrow. We want to back the next generation of innovators creating solutions to benefit all Australians.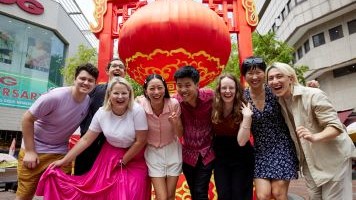 The journey so far
In 2022 we conducted an inaugural long-term impact evaluation through independent market research agency Pollinate Australia. The purpose of this research was to assess Westpac Scholars Trust's overall value to society and determine whether we've ultimately been successful in our mission of creating a stronger Australia.
The results of this research were overwhelmingly positive and indicate that we are delivering on our vision to build future leaders that contribute significantly to the economic and social success of our country across our four key focus areas of sustainability, inclusion, innovation and ties with Asia.
The evaluation revealed the following long-term insights about our scholars:
At least 1 in 3 scholars hold a position of leadership in business or community organisations.
1 in 5 scholars have launched one or more organisations.
72% of these organisations have generated new jobs in Australia.
1 in 4 scholars are receiving financial investment to support their work.
At least half of these scholars are receiving $500,000 or more and 10% are receiving over $5 million.
7% of scholars have had their research commercialised.


Review the full results of this impact evaluation and read more about other incredible scholars that embody these findings. (PDF 1MB)
Check out our scholarships