W100 Network
An inspiring network of like-minded individuals united by a generosity of spirit and desire to create a brighter future for Australia.
What is the W100 Network?
One of the most valuable benefits of becoming a Westpac Scholar is gaining access to the Westpac 100 (W100) Scholars Network, an alumni program to which all Westpac Scholars become lifelong members.
Growing by 100 scholars every year, the W100 is an inspiring network of game-changers, achievers, bright sparks and believers. It's an extraordinary and ever-growing network of driven and diverse people, united by generosity of spirit and a desire to create positive change.
Within the network you'll find allies, mentors, collaborators, and lifelong friends. You get out what you put in.
You're here because you're going places. And as a Westpac Scholar, we want to help you get there faster. Through the W100 Network you'll gain access to unique opportunities, learning and development experiences, and new initiatives, all backed by the skills, resources and people power of the Westpac Group.
We'll share your wins, listen to your new ideas and connect you to industry, government and academic leaders who can help you set the agenda for your future.
Harness the power of the W100 Network with the W100 Hub, a bespoke online platform designed to help scholars connect and collaborate. The W100 Hub is your one stop shop for networking, mentoring, events, job opportunities and volunteer recruitment.
Thinking about reaching out to other scholars with similar interests? Start a group chat. Hoping to meet up with other scholars in your state? Register for social activities happening near you. All this and so much more is available through the W100 Hub.
And as the network grows bigger, this hub will only become more invaluable, connecting future leaders to like-minded peers who can work together to solve some of life's greatest challenges, and make a stronger and more inclusive Australia.
W100 Hub launch details coming soon - stay tuned!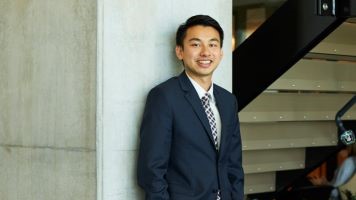 "This scholarship is more than '100 scholarships every year, forever.' It's 100 ideas every year, forever. It's 100 opportunities to change the world, forever. It's 100 legacies every year, forever."
Philip Chan
2017 Westpac Scholar
Check out our scholarships