Our People
The people and partnering institutions behind Westpac Scholars Trust
Our Board
The Westpac Scholars Ltd Board is based in Sydney, Australia. The Board is dedicated to identifying, educating and promoting those who can lead Australia in the way we progress technology, sustainability, social issues and our standing with Asia.
Meet the Board.

Dave was the Chief Information Officer of the Westpac Group from 2014 to 2018, where he was responsible for technology strategy and its implementation across the Group. Dave has 30 years of global experience, including senior roles at the Commonwealth Bank of Australia (CBA) and at Accenture. He currently sits on the boards of ASX, QBE (AusPac) and QuintessenceLabs.

Dave has a deep commitment to cancer research and education, which is characterised by his long-term involvement in the Tour de Cure charity organisation. He is also passionate about working with the government, industry and community to inspire the next generation of Australia's technologists.
Dave was appointed a Director of the Westpac Scholars Trust in 2015, and become Chair of the Trust in March 2019.

Amy has over 25 years of experience across corporate, foundations, SME, and not-for-profit sectors as a senior manager, founder and CEO in Australia and North America. She joined Westpac as a Program Director for the Westpac Scholars Trust in 2015, became Acting CEO of the Trust and Westpac Foundation in April 2021 and was appointed Chief Executive Officer in July 2022.
Previously, Amy was the inaugural CEO of Australian Scholarships Foundation (ASF), a start-up organisation dedicated to strengthening the not-for-profit sector by providing education opportunities. During her six years at ASF, Amy led the facilitation of 2500+ scholarships valued at over $5m and partnered with 25 universities and private education partners.
Amy was previously Chair and Selection Panel Member of the Fulbright Scholarship program, a member of the Curriculum Portfolio Committee at the AICD, a board member of the Australian Businesswomen's Network and is currently Co-Chair of Philanthropy Australia's Corporate Giving Network.
Amy holds a Master of Enterprise from the University of Melbourne (Melbourne Business School) and is a Graduate of the Australian Institute of Company Directors (AICD). She is currently completing a Master of Science in Coaching Psychology at the University of Sydney.
The National Selection Panel
The National Selection Panel comprises senior industry and academic leaders responsible for the final selection of Westpac Research Fellows, Future Leaders and Social Change Fellows. Through the rigorous selection process, the panel is dedicated to recruiting Australia's best and brightest leaders, innovators and pioneers from all walks of life.
Meet the Panel.
Our University Partners
Our 14 university partners enable us to continue empowering talented individuals to achieve their dreams. We thank them for their ongoing partnership and commitment to our students and researchers.


The University of Melbourne
The University of Sydney
The University of Wollongong
Queensland University of Technology
The University of Adelaide
The Australian National University
Monash University
The University of Queensland
RMIT University
UNSW
The University of Western Australia
Murdoch University

Western Sydney University
The University of Tasmania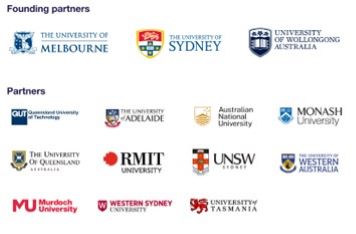 Check out our scholarships